"Chaynaya Vysota GelateriaTeahouse" specializes in tea parties of any complexity with the best choice of china tea, desserts, original gourmet tea-based ice cream and sorbet, hot and cold tea-based mixed drinks and lemonades with fruits, berries and organic syrups.
In 2006 our team developed an original recipe of tea-based ice cream and sorbet that allowed us to deliver the taste of white, green and black tea as well as puer and oolong to the full extent. Our basic formula embodies the best of the European and Russian ice cream cultures and has already proved to be a gastronomic phenomenon in Moscow.
The flavors of our tea ice cream and sorbet are based on the unique combination of exquisite tea and specialities from various regions of Russia and other countries.
To make the taste of our sorbet and ice cream really unique we mix from 3 to 7 flavour components: exotic fruits and spices, nuts and berries, herbs and tea. We have already created 129 ice cream and sorbet flavours since 2006.
8 flavours of tea-based ice cream and sorbet will be served to the guests of the Russian pavilion at EXPO2015 during the Ice Cream Days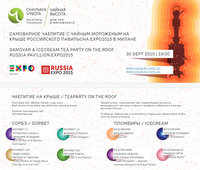 CHAYNAYA VYSOTA GELATERIA TEAHOUSE
facebook.com/cha108
instagram.com/cha108
pr@сha108.ru
VICTOR ENIN, CHEF AND VISIONARY
instagram.com/viktor_enin_cha108/
chahigh@gmail.com